Facts
Brand integration: With TV visible placement on the court, Courtside TV signage advertisers "become part of the action". No DVR can remove your message from the consumers eye-mind. We are "TIVO proof." Your advertising message becomes "embedded into the game."
Brand association: Local fans are loyal consumers and strongly identify and make buying/purchasing decision based on their teams sponsors. Marketers also build brand association with the league and athletes that play that particular sport.
Multi-Market and various media outlet coverage: In team market and away team market game coverage as well as local TV, magazine and newspaper news reports gives marketers broad array of exposure on a nightly basis. Additionally, national exposure through ESPN, ESPN2, ESPNews, FSN, CNN Headline News, etc., etc. and other media outlets add additional media value & exposure.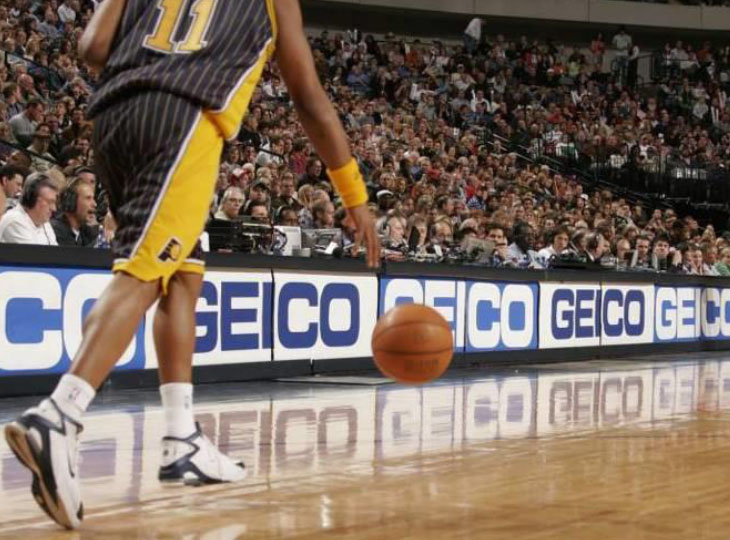 Teams
ATLANTA HAWKS
BOSTON CELTICS
CHARLOTTE BOBCATS
CHICAGO BULLS
CLEVELAND CAVALIERS
DALLAS MAVERICKS
DENVER NUGGETS
DETROIT PISTONS
GOLDEN STATE WARRIORS
HOUSTON ROCKETS
INDIANA PACERS
L.A. CLIPPERS
L.A. LAKERS
MEMPHIS GRIZZLIES
MIAMI HEAT
MILWAUKEE BUCKS
MINNESOTA TIMBERWOLVES
NEW JERSEY NETS
NEW ORLEANS HORNETS
NEW YORK KNICKS
ORLANDO MAGIC
PHILADELPHIA 76ERS
PHOENIX SUNS
PORTLAND TRAILBLAZERS
SACRAMENTO KINGS
SAN ANTONIO SPURS
OKC THUNDER
TORONTO RAPTORS
UTAH JAZZ
WASHINGTON WIZARDS